Flow is 1 years old!
September 20th, 2019, 4:59 pm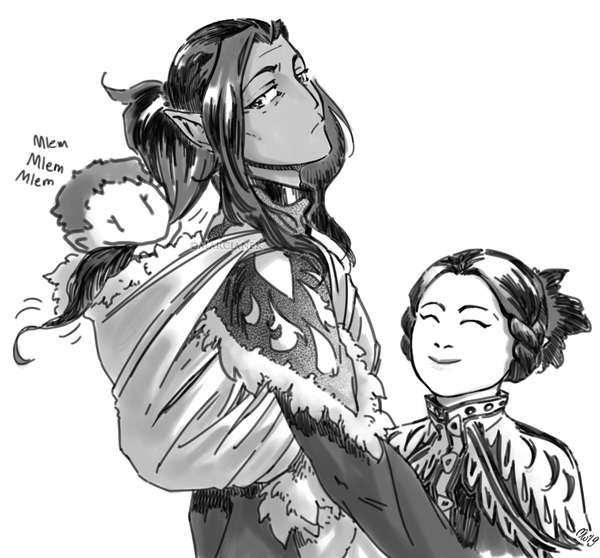 Here's a picture of little larva to celebrate.
So, it's been a year already! Let's talk a little (lots) about it :D
First, I want to thank you all, for reading the comic, and sticking around for all this time.
To be honest, it's a really pleasant suprise, how many people are reading it. The pace of the story is slow, even without taking the update schedule into consideration. Important stuff is revealed in very small bits, and we're still estabilishing and building up a lot. Big things are yet to come, even if they are on their way.
Still, in spite of all that, I hope the current pages are interesting enough, and that in the end, all the wait will be rewarding. I'll do my best. :)
As for me, the decision to start this comic was a big one. It was made at a time, when I practically started a new chapter in my life, after moving away from a toxic enviroment and starting to rebuild my life anew. At first, I wasn't sure if I can afford such big commitment, considering there's so much other things to care care of, obligations, and necessities. But then, I could wait around for my whole life, and still never encounter the right moment, so, I just started doing it. It wasn't easy, the road was rocky, and it was a battle not only with the making process and my storytelling skills, but also with my countless doubts and insecurities. But drawing this comic was something I always wanted to do, and pushing through was more than worth it. Even though it's not something that can just be bam, done - it requires discipline and consistency even more than it does the hype of inspiration - I have to keep on and on and on and on doing this - with every line I am realising my dream, and it makes me happy.
This wouldn't happen either without the help of my friends.
It's thanks to Joolita, whom I got to know few years ago, who kept asking me about my story. It's thanks to her persistent interest and indepth questions, that I've learned to even talk about this story in a presentable manner, as I used to be too shy to even mention it, least talk openly about it beyond what the descriptins in my old devianart artworks revealed.
Her and Munen helped me a ton with the proofreading, feedback, and support.
They are authors of an awesome webcomic "Of conquests and consequences". Please give it a try :D
"Of conquests and consequences" Webcomic
Joolita's and Munen's Twitter
I owe a lot to my best friend, Solfi too. She supported me a ton over the years, gave feedback, regulary proofreads my comic... without her, I wouldn't be able to polish my dialogues as well, since I am not a native english speaker. And aside for that, and the support for my story, she also supported me in times of weakness. Thank you ; _ ;
Solfi is also a super talented artist. She has her own story called "Penumbra", which I hope she will release one day :D She's also active in P5 fandom, and creates really great fanarts and doujins. You can see her work here:
Solfi's DA Gallery
Solfi's Twitter and P5 fanarts
Now if you don't mind me, I'm going to ramble a little about this past year's expieriences and challenges:
- I've learned a ton during this time, esp. about writing, but it still feels like barely scratching the surface. Really makes me think of how much babies learn by the time they're 1 year old. Like crawling, walking, mumbling a few words. That's a looot. And yet, they still fall, trip, make mess, and can hardly be considered masters of anything other than making a total mess i guess. Considering it's the comic's first anniversary, I find that very symbolic and accurate of my experiences with it XD. Hence the drawing.
It's gonna take so much more years to really learn all of this stuff. I'm looking forward to this.
-It's interesting how, in spite of all the notes, storyboards, etc, it's so easy to start doubting one's own grasp of story's pacing and focus, just because you're stuck on drawing a scene that takes 5-15 minutes in-universe for half a year.
Suddently all those background characters, pets, items, remarks, etc. stand out more than they should and seem to overdominate a scene, because all sense of distance was lost. Suddently, everything is goat. Or penguin. So many goats. Is this a story about a family and their daily life with art/culture as a theme, or is it story about penguin invasions and goats? I don't know. I only know I've spend hours on these goats. There's a macro scale to storytelling - plot, timeline, themes, important "checkpoints" - but then there's also this little micro scale, moment-to-moment bits and pieces. I'm more and more convinced that the macro scale can only work if the micro scale does. Sometimes I think i'd be cool to draw at a "reading" pace, but then that "zoomed in" perspective has it's perks too.
-Comics are so awesome for expanding or going out of the comfort zone. They naturally provide topics and challenges to draw what I wouldn't normally come up with. But on another hand I feel like they don't always let me study new subjects indepth, since the priority is to finish the page and move on to the next, and next, and next, rather than experiment and play around until I can tell for sure that the new knowledge had a time to sink in. I even feel like even though I learned a lot, some other of my skills atropied, because I simply didn't have time for anything else but the comic.
Overall, I miss focusing on the process rather than the result, drawing spontaneous illustrations and sketches, and even though I am glad I developed a stable process for making the pages... I miss experimenting with different mediums and styles too.
-In similar vein, like I said, I'm happy I have developed a consistent style, I'd still like to draw pages faster. This is why I'm considering experimenting with more painterly or sketchy styles, similar to what I used to do when drawing traditionally... so, if there might be style shifts in the future, but hopefully you will find them appealing or interesting too. :)
-Since the end of last year, I kept falling ill, and was unable to work on a comic at all due to pain or exhaustion. In the end, even though I wanted to avoid this at all cost, I ran out of the batch I drew in advance - and so, for the past few months I had to draw pages week by week. I ended up missing a few updates due to emergency or other random obligations.
All things considered though, I think I did fairly well, and tbh I feel it was cool to experience and test myself under such conditions.
Still, I would like to rebuild my batch, to avoid rushing with updates, or allow some wiggle room for edits without worrying about the deadline... So, once first chapters ends (in about 13 pages), the comic will go on about 2-3 month long hiatus, so that I will have time to draw as many pages as I can, and keep the updates more consistent, once I return :)
-I plan to start Patreon or Kofi, to support my comic. Well, technically, I already made Patreon account, just to keep their rates before their changes in May... but for now I keep it on hold and I need to find time to finally set it up properly... But once I'm done with it, I will make proper announcements :D Of course, the comic will remain avaliable online.
Either way, gotta keep going forward :)
Thanks again, and see you next week!